KUKKIA DRESS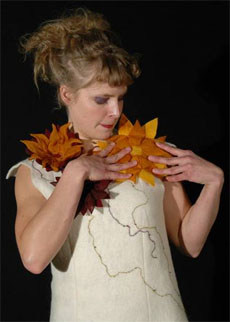 The design of garments we wear usually integrates social, psychological, and physical functions. Each garment presents a variable combination of functionality, from the purely aesthetic to highly task-driven. With these projects, instead of focusing on an application that might increase our physical comfort or increase our productivity, we focus on playful scenarios that develop a behavioral model for the garments themselves and encourage a sense of wonder and delight.


The Kukkia dress is decorated with three animated flowers that frame the neckline. Each flower opens and closes over a 15 second interval. The flowers are constructed out of felt and silk petals that provide relative rigidity and integrate stitiched Nitinol wire. When heated, the wire shrinks and pulls the petals together, closing the flower. As it cools down, the rigidity of the felt counteracts the shape of the wire, allowing the flower to open.

It is an expressive and behavioral kinetic sculpture that develops a visceral relationship with the wearer.